HbA1c & ACR Analyzer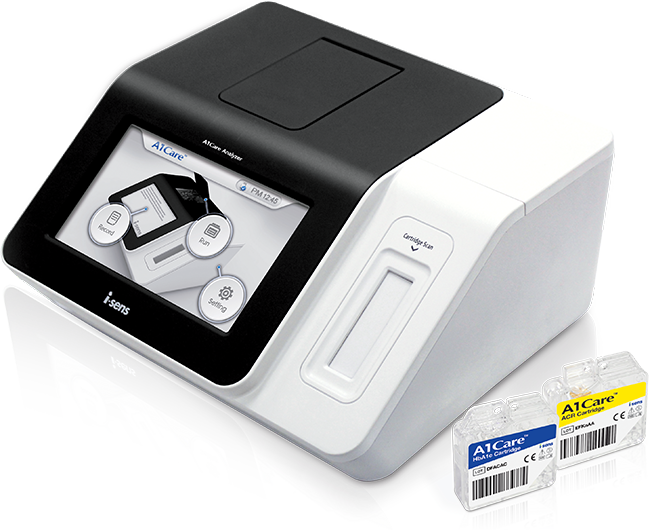 ACR Cartridge
Quantitative ACR (Albumin/Creatinine Ratio) Testing
Early diagnosis indicator for renal failure and cardiovascular disease in patients with diabetes and hypertension
Fast and accurate on-site inspection with random urine test
All-in-one cartridge with 12 months shelf life at room temperature
Fast turn around time: 7 minutes
Small sample volume: 40 μL
Wide operating temperature range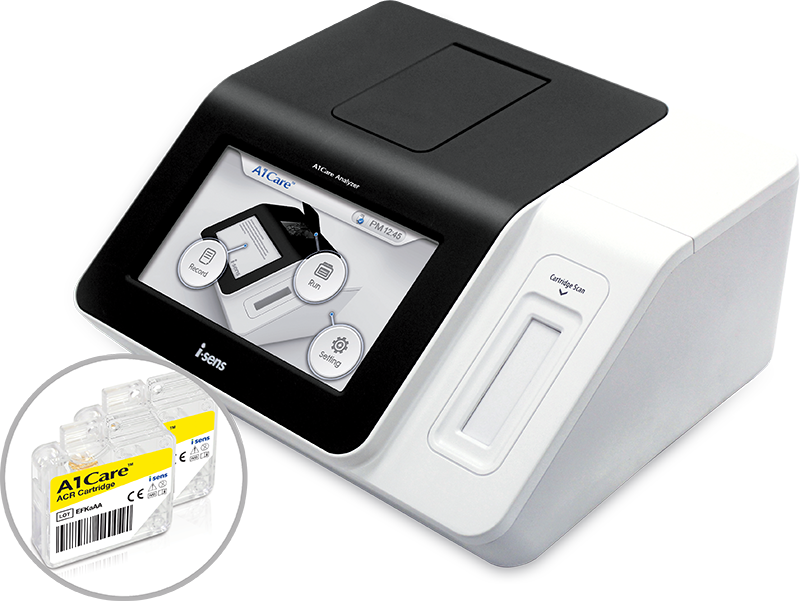 What is ACR test?
The ACR test is an urine test that measures the amount of albumin in the urine. Random urine is collected to measure both albumin and creatinine. Then ACR is calculated as albumin to creatinine ratio.
Why perform ACR test?
Albumin is normally found in the blood and filtered by the kidneys. When the kidneys are working as they should, there may be a very small amount of albumin in the urine. But when the kidneys are damaged, abnormal amounts of albumin leak into the urine. When the kidneys spill albumin, it can mean serious kidney damage is present. This can lead to chronic kidney disease. The creatinine level in the blood will rise due to poor clearance of creatinine by the kidneys. Abnormally high levels of creatinine thus warn of possible malfunction or failure of the kidneys. Thus, the urinary albumin and creatinine ratio is important for the diagnosis of chronic kidney disease.
Understanding your results by CKD* categories
| Category | ACR (mg/g) | Terms |
| --- | --- | --- |
| A1 | < 30 | Normal to mild increased |
| A2 | 30-300 | Moderate increased |
| A3 | > 300 | Severe increased |
*CKD: Chronic kidney disease
Clinical Significance of ACR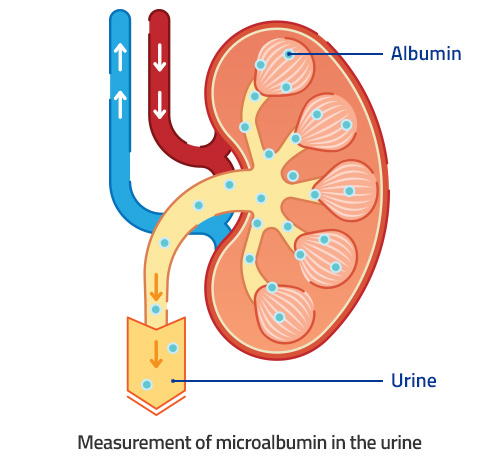 Early stages of kidneys damage
→ Excretion of albumin into the urine
Healthy kidneys
→ No albumin is present in the urine
American Diabetes Association recommended measurement of ACR in a random spot urine collection


(Convenient alternative test over 24-hour urine collection)
ACR Testing Guideline
| Diabetes | Test |
| --- | --- |
| Type 1 | Begin screening 5 years after diagnosis, then annually |
| Type 2 | Begin screening at diagnosis, then annually |
Reference: American Diabetes Association
Who should perform ACR test?
According to the Centers for Disease Control and Prevention (CDC), diabetes and high blood pressure are the major causes of chronic kidney disease (CKD). The CDC recommends regular testing for CKD in people who have diabetes, high blood pressure, and/or other risk factors, such as heart disease, family history of CKD, obesity, previous damage to the kidneys, and older age. The albumin/creatinine ratio is an important part of this assessment.*
*Centers for Disease Control and Prevention. Chronic kidney disease in the United States, 2019. https://www.cdc.gov/kidneydisease/publications-resources/2019-national-facts.html. Last reviewed March 11, 2019. Accessed February 4, 2020.
How often perform ACR test?
The American Diabetes Association (ADA) recommends performing an annual test to assess urine albumin excretion in type 1 diabetic patients with diabetes duration of 5 years and in all type 2 diabetic patients, starting at diagnosis.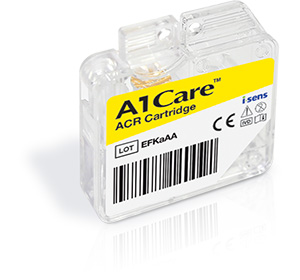 Product Specifications
Sample type
Random urine
Measurement item
Albumin/Creatinine Ratio
Measurement range
Albumin: 10-300 mg/L
Creatinine: 15-500 mg/dL
Albumin/Creatinine Ratio (ACR): 2-2,000 mg/g
Sample volume
40 μL
Measurement time
7 minutes
Operating temperature
10-32 °C
Shelf life
12 months
Storage temperature
2-30 °C
Precision
Albumin: ≤ 8 % CV
Creatinine: ≤ 8 % CV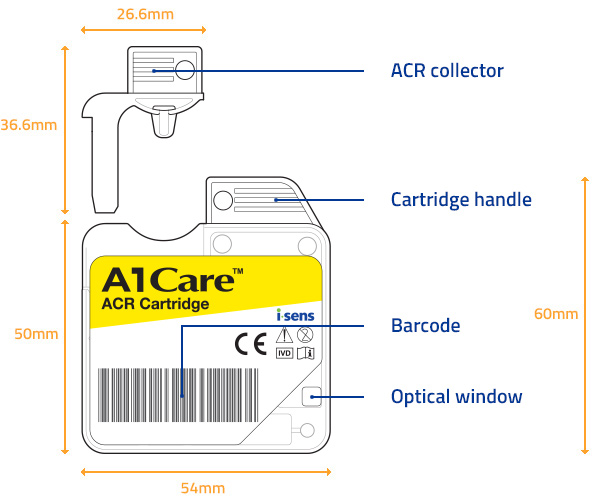 Reference Range
| Category | ACR (mg/g) |
| --- | --- |
| Normal | < 30 |
| Microalbuminuria | 30~299 |
| Macroalbuminuria | ≥ 300 |
HbA1c Cartridge
HbA1c (Hemoglobin A1c) Testing For Efficient Diabetes Care
An indicator of average blood glucose levels over 2-3 months
Fast and accurate on-site inspection with capillary or venous blood
All-in-one reagent cartridge with 12 months shelf life at room temperature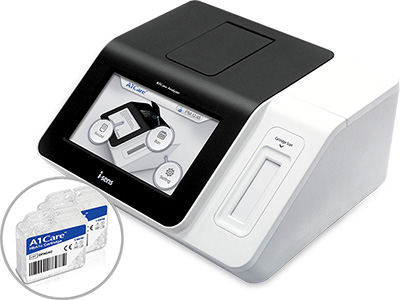 What is HbA1c test?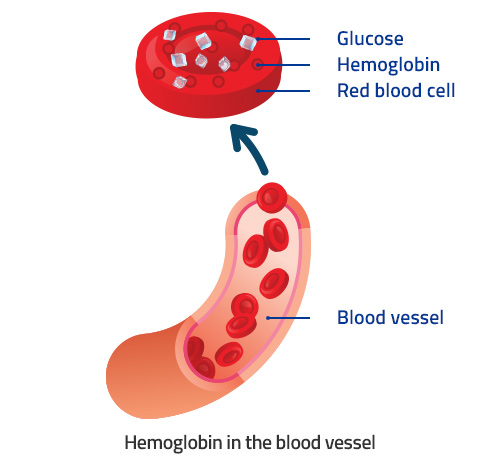 | | |
| --- | --- |
| | Glucose binds to hemoglobin A |
Glucose remains attached to the hemoglobin for
the average red blood cell life span of 120 days
| | |
| --- | --- |
| | HbA1c test measures percent of hemoglobin A with glucose |
HbA1c Testing Guideline
| Diabetes | Test |
| --- | --- |
| Type 1 | Typically 3-4 times per year |
| Type 2 | At least 2 times per year |
Reference: American Diabetes Association
Product Specifications
| | |
| --- | --- |
| Sample type | Fresh capillary or venous whole blood |
| Measurement item | Hemoglobin A1c (HbA1c) |
| Measurement range | 4-15 % or 20-140 mmol/mol |
| Sample volume | 2.5 μL |
| Measurement time | 4 minutes 20 seconds |
| Operating temperature | 10-32 °C |
| Shelf life | 12 months |
| Storage temperature | 1-30 °C |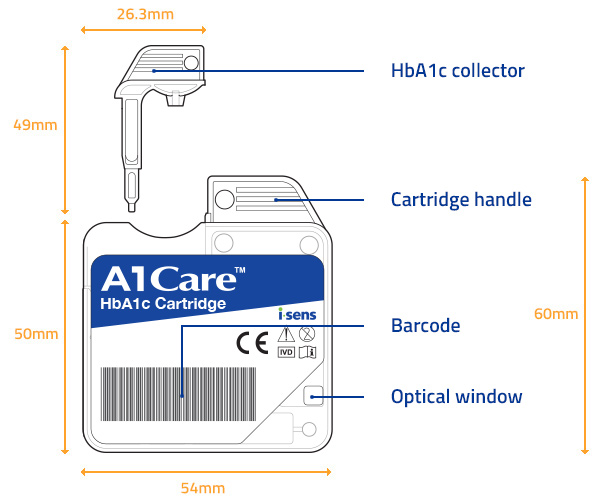 Reference Range
| Category | HbA1c (%) |
| --- | --- |
| Normal | < 5.7 |
| Prediabetes | 5.7-6.4 |
| Diabetes | ≥ 6.5 |